French Vanilla Shawl Pattern
$5.99 $5.99
What is it about the French? So simple….and yet, très chic. French women have mastered the Art of the Shawl and no wonder–with so many ways to tie, pin and wrap, you can accessorize any outfit–from knock-around jeans to the ubiquitous little black dress–with a shawl. At Wool & Honey, it's one of our favorite accessories to make and wear, season after season, and just like in life, sometimes less is more. This version, simply put, is plain vanilla. It's a basic, top-down triangular shawl that's easy enough to modify in size, fiber content and color, no matter the weather. Love to spend your summer evenings on the front porch with your friends and a bottle of wine? All you need to remember is whether you're on the right or wrong side. Need something not-too-distracting to knit while poolside at your daughter's swimming lesson? You can glance up and down repeatedly without losing your place. We've knit our version in an ethereal mohair blend, which is pleasantly lightweight enough to carry throughout the humid summer months and once the weather turns cool, this knit fabric creates a floaty statement piece that would pass as authentic French any day.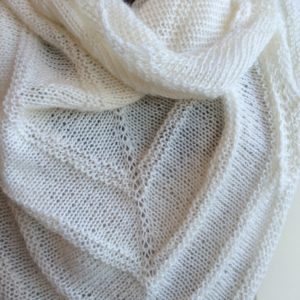 Pattern will be emailed in PDF form within 24 hours.
Interested in the French Vanilla Shawl Kit? Find it HERE.