2019
While we freely admit that 2018 was a bit quiet in regard to speakers and events at Wool & Honey, we are certain that 2019 is going to knock your handknit socks off. We are thrilled to announce our coming events for next year, mostly because they're some of the biggest and the best in the industry. We only have the very basics mapped out so far–no sign-ups, no specific details, no exact times–but the most important thing to do was to get them on the calendar in black ink. You're the first to know; we wanted our dearest friends (YOU!) to be able to make travel plans and accommodations as early as possible.
Each of these weekend events will have both ticketed, smaller events AND trunk shows with plenty of shopping opportunities with FREE meet-and-greets for everyone.
February 21-23rd, 2019. A Book Release Party for Marie Greene of Olive Knits + Six and Seven trunk show with dyer Rachel Lundstrom. Details TBA.
Marie Greene is a knitwear designer in the Pacific Northwest. She designs wearable, classic styles with modern features that are fun to knit, but–most importantly–are easy to wear. She's inspired by architecture and her home near the Oregon Coast, loves rainy days, dinner parties, Nordic Noir and early early mornings. (Our kind of woman!) Marie just handed her book in to her publisher on Tuesday and we will be the first shop to host her when her book tour begins in February. (We featured Marie's Azimuth Sweater in our Ravellenic Challenge this winter.)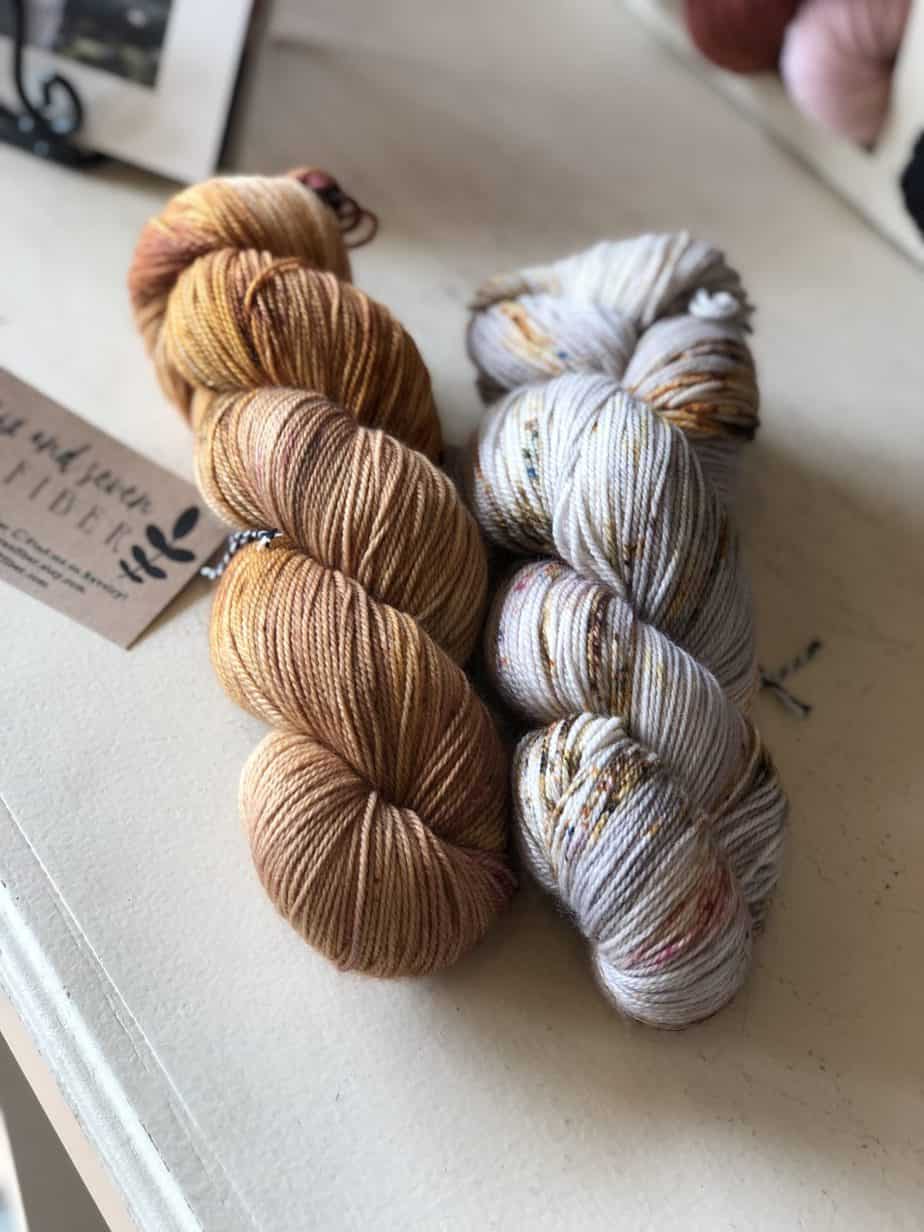 We are so excited to announce that we'll have an additional special guest at the book release party for Marie….Rachel Lundstrom, the dyer behind Six and Seven Fiber, will be joining us to make the weekend into quite the cozy, knitterly event! We've been carrying Rachel's beautiful Alfalfa yarn (pictured here in Gingersnap + Grey Lady) in the shop for nearly a year and every single time a new batch of this handpainted yarn arrives, it's better than the last. She's since introduced a palette of tonal colorways to her collection; between the colors and the bases (including DK and worsted weight), we can hardly stand the wait. (We're also certain there'll be an exclusive colorway or two making its debut at the party….)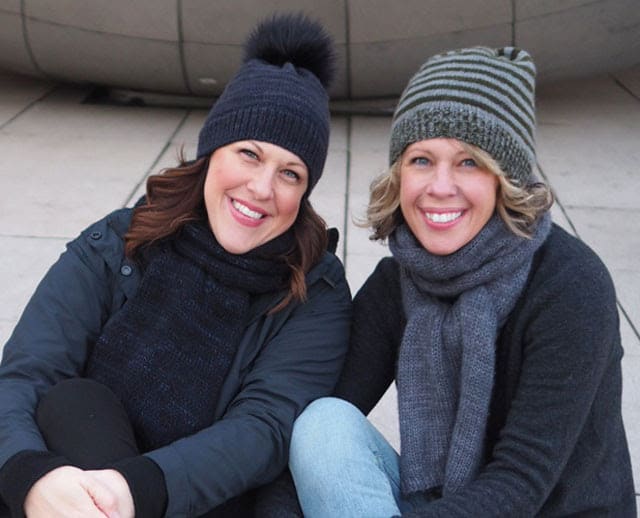 photo courtesy of The Plucky Knitter
July 11-14th, 2019. A Plucky Knitter/Grocery Girls Trunk Show. Details TBA.
Yup. You read that right. A Plucky Knitter trunk show AND a weekend with The Grocery Girls. It's basically going to be a sisters extravaganza all. Weekend. LONG. You know how much we love Plucky; Sarah and Hayley have been a part of our hive for years. We can't wait to have them–and their mountains of yarn–back! But do you know Jodi and Tracie (L to R) of the world-famous podcast 'Grocery Girls'? We can't get enough of their spunky, saucy podcasting style and their infectious love of all things knit. They both write patterns and Jodi is the production sewer behind Mrs. Brown's Bags. We're still hammering out the details, but we're thinking about beachfront knitting, a pajama party, a sock class…and maybe even some live podcasting!
Susan B. Anderson is a best-selling knitting book author, designer, award-winning blogger, writer and international knitting instructor. Susan's love of knitting and wool has spanned over 30 years, while she has worked as a freelance designer for many top yarn companies, magazines and independent companies. We have loved Susan B. Anderson almost as long as we've been knitters; Itty Bitty Hats was one of the first books to make it into both of our knitting libraries and we are honored to have the opportunity to introduce her to our loyal customers. Susan's newest venture, Barrett Wool Co., is an especially exciting addition to the knitting world–we'll have a trunk show here with kits and Midwest-made yarns–and you better believe she'll be teaching a class.
Previous Events
2018
June 30th, 2018. An Evening with Chloe Benjamin, NYT Bestselling Author of The Immortalists.
June 23rd, 2018. Polka Festival Parade.
June 1-30th, 2018. Mon Manet KAL.
May 26th, 2018. Our Annual Memorial Day Weekend Anniversary Celebration (18th!)
May 5th, 2018. Our Annual Fiber Garage Sale + Maker's Market. Click HERE to learn more.
April 21st, 2018. Worldwide Inaugural LYS Day.
March 1st-March 31st, 2018. Lesley KAL.
February 9-25th, 2018. The Ravellenic Winter Games.
2017
December 9th, 2017. Our Annual Holiday Party with Nice & Knit.
November 30th, 2017. A Holiday Pop-Up Shop with artist Ashlea Walter. Find out more info HERE.
October 31st-November 30th, 2017, Georgetown KAL.
November 24-27th, 2017. Thanksgiving Weekend 2017. Find out more info HERE.
September 22nd-24th, 2017. Greater Traverse Yarn Shop Hop. 
August 4-6, 2017. Yarn-to-Table Weekend with Why Knot Fibers + Birch Point Farm. 
July 20th, 2017. A Nice Cream Social with special guest Christine Chitnis.
July 1st-July 31st, 2017. Moto Jacket KAL.
March 1–April 15th, 2017. Hancock Sweater KAL.
January 1–February 20th, 2017. Find Your Fade KAL.
January 19th, 2017. The True Cost: A Movie and Panel Discussion.
2016
December 3rd, 2016. Our Annual Holiday Party with special guest Andrea Mowry.
October 28th-30th, 2016. A Brooklyn Tweed Trunk Show with special guests Jared Flood & Julie Hoover.
September 27th, 2016. An Evening with Stephen West.
September 23-25th, 2016. Fifth annual Greater Traverse Yarn Shop Hop. Visit the group's Facebook page for more information.
May 26-28th, 2016. Sweet Sixteen Celebration with The Plucky Knitter. Read about the weekend on Sarah's blog HERE.
2015
October 10-12th, 2015. YOTH Yarns Cocktail Party, Trunk Show and Farmhouse Brunch with Veronika Jobe.