Perhaps the biggest event we've ever had at Wool & Honey: a Plucky Knitter trunk show AND a weekend with The Grocery Girls.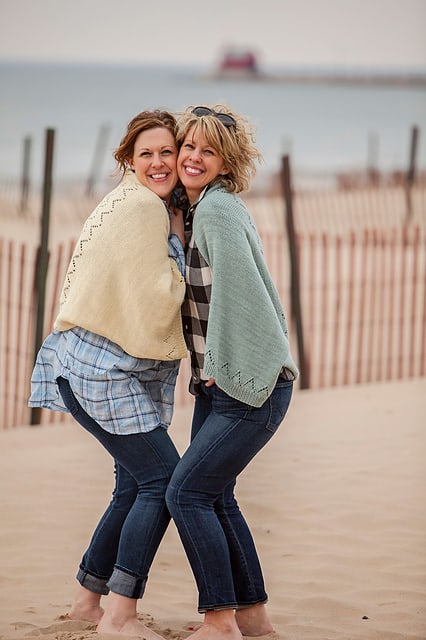 You know how much we love Plucky; Sarah and Hayley have been a part of our hive for longer than we can remember. We can't wait to have them—and their mountains of yarn!—back in the shop for a rare in-person shopping experience. This will be our first time meeting Tracie and Jodi of the world-famous podcast 'Grocery Girls', but it feels like we've been friends for years. We can't get enough of their spunky, saucy podcasting style and their infectious love of all things knit. They both write beautiful patterns, and Jodi is the production sewer behind Mrs. Brown's Bags.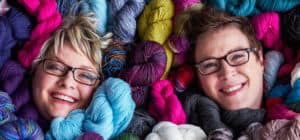 This will be our event of the year–a weekend you won't want to miss, filled with summery celebration: fresh, new patterns for the modern knitter, jaw-dropping handpainted yarns and a chance for wooly communion with makers, near and far. We are giving away a HUGE gift basket filled with yarns, patterns and treats to one extremely lucky guest. (A $250 value!) Join us throughout the weekend and you'll be entered to win. Not local? We'll be announcing a way for our far-flung customers to get in on the giveaway action–and the ability to shop the trunk show from home, too.
The Details…
On Friday, July 12th, we'll have an intimate cocktail reception and pre-sale party, where 35 ticket-holders will receive a special swag bag, have the first pick of Plucky yarn and listen to a short presentation by the Plucksters and the Grocery Girls, and their respective processes as makers and yarn enthusiasts. We'll be celebrating with a special cocktail, as well as some of our favorite local cheeses, fruits and treats. Want first dibs on Plucky? This is the event ticket you'll want to snag.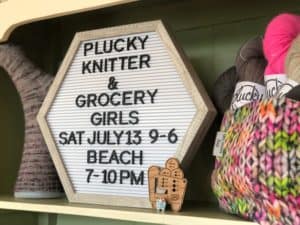 On Saturday, July 13th from 9 am to 6 pm, we'll be hosting our friends at Wool & Honey all day long. The shop will be stuffed to the gills–absolutely jam packed. There will be more Plucky yarn on the shelves than any of us have ever seen in one space before, in every weight, color and style under the sun, including new colors we'll be adding to our Plucky exclusives, The Leelanau Palette. All of Jodi and Tracie's samples and patterns will be here, as well as Mrs. Brown's project bags and Grocery Girl goodies as far as the eyes can see. The shop will be open to everyone–you are ALL welcome here!–there is no charge.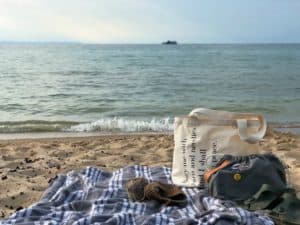 Because there are SO many of our customers traveling from so far away, we're adding an extra event to the weekend we've never had before: Open Stitch, the Lake Michigan edition. We'll be gathering at one of our favorite local beaches (just a few miles from the shop) to knit on the shores of Lake Michigan, and we'll be there from 7 to 10 pm, complete with a bonfire, a S'mores Bar (yes, that's just what it sounds like!), rock hunting and perhaps even some live podcasting. We'll be able to really chat and knit and enjoy each other's company–and catch a sunset together, too. We're hoping to gather as many knitters as we possibly can in one location (think group photo!) and we want every single person to feel welcome–there will be no charge. We will be gathering at Bohemian Beach, which is located at the intersection of M-22 and the north end of County Road 669. Click on the link to the map HERE. In case of rain, we'll be meeting at the Cleveland township hall, which is at that very same intersection.
On Sunday, July 14th from 9 am to 11 am, we'll have a brunch at The Granary, where 35 ticket-holders will also receive a swag bag, eat a farm-fresh brunch, and knit and crochet with our friends while they share a few tips and tricks on making, designing and the process involved in creating beautiful yarns. The Granary is just six miles north of Wool & Honey, and with its open kitchen, huge wraparound porch and loft bedroom, it serves as a year-round cottage nestled on a 300-acre farm. (And yes, knitters will be able to shop at the event!)
Tickets for the cocktail party and brunch were available for lottery-style purchase on Wednesday, May 1st from 9 am to 3 pm EST, and have been sold out.
* * * * *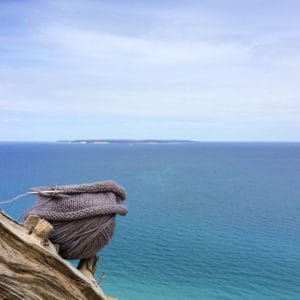 Planning to travel but not sure where to stay?
Here are some of our favorite accommodations in Northern Michigan:
Hillside Homestead for a completely unique farm stay, hosted by our dear friend Susan Odom. She'll cook you a farm-fresh meal on her 1910 cookstove with eggs, pork and veggies grown right on her property. A dinner party with Susan was one of the best experiences I've ever had with my Northern Michigan girlfriends.
Leelanau Vacation Rentals. Whether you're looking for a beachfront condo, a large cottage to split with friends or a pet-friendly rental, there isn't anyone who knows Leelanau County better than Renee and her team. There are properties in Glen Arbor, Suttons Bay, Leland, Northport, Lake Leelanau–and every place in-between.
The Homestead Resort. The Inn is amazing, and so is Hawk's Nest and Fiddler's Pond and….you get the idea. The whole place is spectacular. And on Lake Michigan.
For more budget-friendly accommodations, we'd suggest hotels in nearby Traverse City (an easy 20 minutes from the shop). You can also find reasonable hotels in Cadillac (an hour away), Charlevoix + Petoskey (an hour and a half) and Grand Rapids (two and a half hours) and rent a car for an easy day-trip.
Don't forget camping! Leelanau Pines (231-228-5742) and Lake Leelanau RV Park (231-256-7236) are the closest to the shop, but we love D.H. Day in Glen Arbor (231-326-4700) and the Traverse City State Park (231-922-5270). Visit the 'Campgrounds & RV Parks' page on Pure Michigan's website, as well as the Sleeping Bear Dunes National Lakeshore website.
We suggest thinking about your travel plans now, as it will be the very peak season in Northern Michigan; we'd hate for someone to miss this weekend because they couldn't find a place to stay.