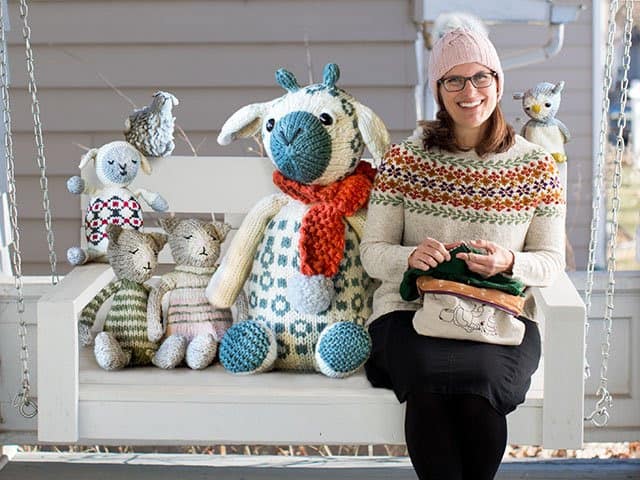 We are thrilled to announce that we are welcoming a major fiber celebrity to Northern Michigan the weekend of November 8-10th: Susan B. Anderson. Susan is a best-selling knitting book author, designer, award-winning blogger, writer and international knitting instructor. Susan's love of knitting and wool has spanned over 30 years, while she has worked as a freelance designer for many top yarn companies, magazines and independent companies. We have loved Susan B. Anderson almost as long as we've been knitters; Itty Bitty Hats was one of the first books to make it into both of our knitting libraries and we are honored to have the opportunity to introduce her to our loyal customers. Susan's newest venture, Barrett Wool Co., is an especially exciting addition to the knitting world–we'll have a trunk show here with kits and Midwest-made yarns–and a few lucky students will even have the opportunity to take a class.
This will be our event of the fall–a weekend you won't want to miss, filled with wooly celebration: sweet patterns for the modern knitter, Midwest and USA-made yarns and kits, and a chance for wooly communion with makers, near and far. We are giving away a HUGE gift basket filled with yarns, patterns and treats to one extremely lucky guest. (A $250 value!) Join us throughout the weekend and you'll be entered to win. Not local? We'll be announcing a way for our far-flung customers to get in on the giveaway action, too.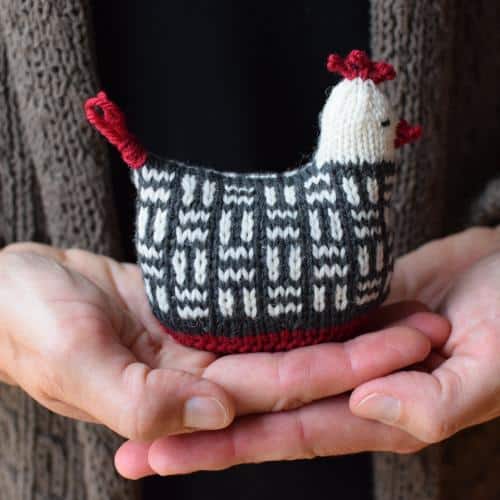 On Friday, November 8th, we'll have a class for the 'Three French Hens' pattern, where 25 students will take a class from Susan B., learn some tips and tricks for knitting seamless toys and receive a swag bag to take home.
On Saturday, November 9th from 9 am to 4 pm, we'll be hosting Susan at Wool & Honey all day long. Susan's darling samples and patterns will be here, as well as a few Barrett Wool kits–and maybe even a surprise or two. We'll have lots of kits with Susan's classic patterns and wool from our shop, too–Brooklyn Tweed, Quince & Co., Stone Wool, O-Wool and many more. The shop will be open to everyone–you are ALL welcome here!–there is no charge.
On Sunday, November 10th, we'll have a brunch at The Granary, where 35 ticket-holders will also receive some a swag bag, eat a farm-fresh brunch, and knit with Susan while she talks a bit about her process as a knitter, a designer and creating beautiful yarns in the Midwest. (And yes, you'll be able to shop at both events!)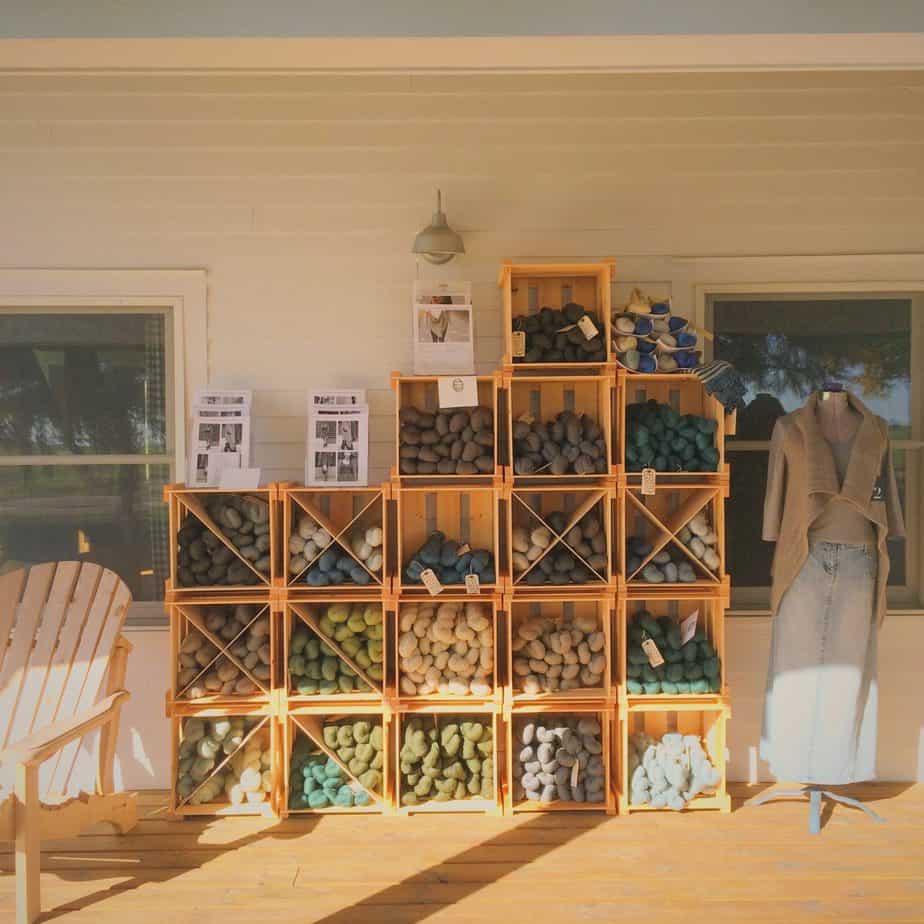 Tickets for the 'Three French Hens' class and brunch will  available for lottery-style purchase on Saturday, September 28th from 9 am to 6 pm EST and can be found HERE.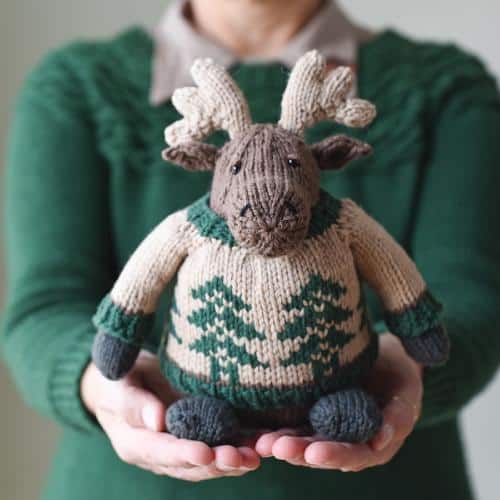 * * * * *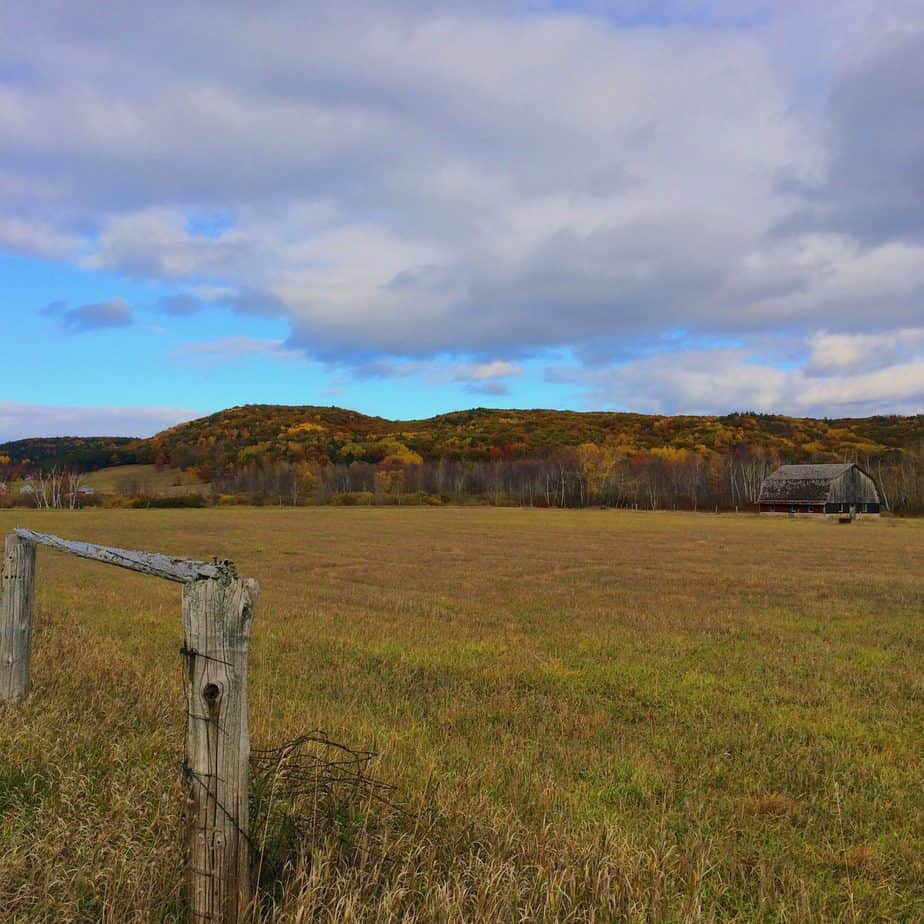 Planning to travel but not sure where to stay?
Here are some of our favorite accommodations in Northern Michigan:
Hillside Homestead for a completely unique farm stay, hosted by our dear friend Susan Odom. She'll cook you a farm-fresh meal on her 1910 cookstove with eggs, pork and veggies grown right on her property. A dinner party with Susan was one of the best experiences I've ever had with my Northern Michigan girlfriends.
Leelanau Vacation Rentals. Whether you're looking for a beachfront condo, a large cottage to split with friends or a pet-friendly rental, there isn't anyone who knows Leelanau County better than Renee and her team. There are properties in Glen Arbor, Suttons Bay, Leland, Northport, Lake Leelanau–and every place in-between.
The Homestead Resort. The Inn is amazing, and so is Hawk's Nest and Fiddler's Pond and….you get the idea. The whole place is spectacular. And on Lake Michigan.
For more budget-friendly accommodations, we'd suggest hotels in nearby Traverse City (an easy 20 minutes from the shop). You can also find reasonable hotels in Cadillac (an hour away), Charlevoix + Petoskey (an hour and a half) and Grand Rapids (two and a half hours) and rent a car for an easy day-trip. There are also TONS of cottages available on Airbnb and VRBO.
It may be a bit on the chilly side, but camping–especially RV camping!–is always an option. Leelanau Pines (231-228-5742) and Lake Leelanau RV Park (231-256-7236) are the closest to the shop, but we love D.H. Day in Glen Arbor (231-326-4700) and the Traverse City State Park (231-922-5270). Visit the 'Campgrounds & RV Parks' page on Pure Michigan's website, as well as the Sleeping Bear Dunes National Lakeshore website.
We suggest thinking about your travel plans now; we'd hate for someone to miss this weekend because they couldn't find a place to stay.