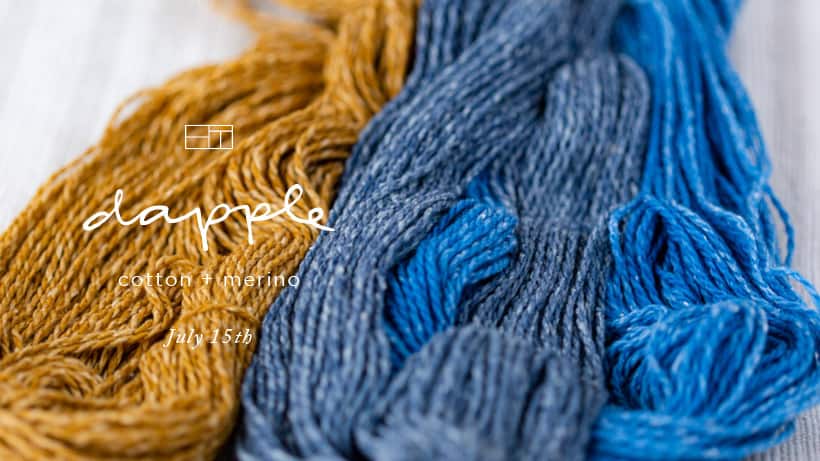 Oh, happy day! Introducing Dapple, the newest yarn in the Brooklyn Tweed collection. We encourage you to pour yourself a cup of something lovely, sit for a moment and read–and watch!–Dapple's story, in the words of the team at Brooklyn Tweed…
"Brooklyn Tweed fell in love with the idea of woolen-spun cotton, a less-common blending and carding process that preserves the loft and softness of cotton, while maintaining a downy, natural look to knitted fabrics. They sourced organic Texas cotton from Texas Organic Cotton Marketing Cooperative to combine with the finest US Merino wool that they could find, with a goal of creating a yarn that "knits like wool and wears like cotton". The sweet spot – a 60/40 wool and cotton blend that balances cotton's breathability and softness with Merino's memory and bounce. Dapple creates sweatshirt-soft fabrics that are perfect for next-to-skin wear while preserving the natural look of heathered wool.
Easy wearing with near-to-the-skin smoothness, Dapple delivers as the perfect go-to yarn for buttery soft baby sweaters, summer shawls and all-season apparel. This woolen-spun yarn is a blend of 40% Texas organic cotton and 60% Merino wool from Colorado. The spring and bounce of plump wool anchors this 2-ply DK weight yarn, providing structure and memory to your knitwear. Concurrently, cotton's smooth hand softens wool's rustic texture, making Dapple a dream for those knitters who crave a downier feel.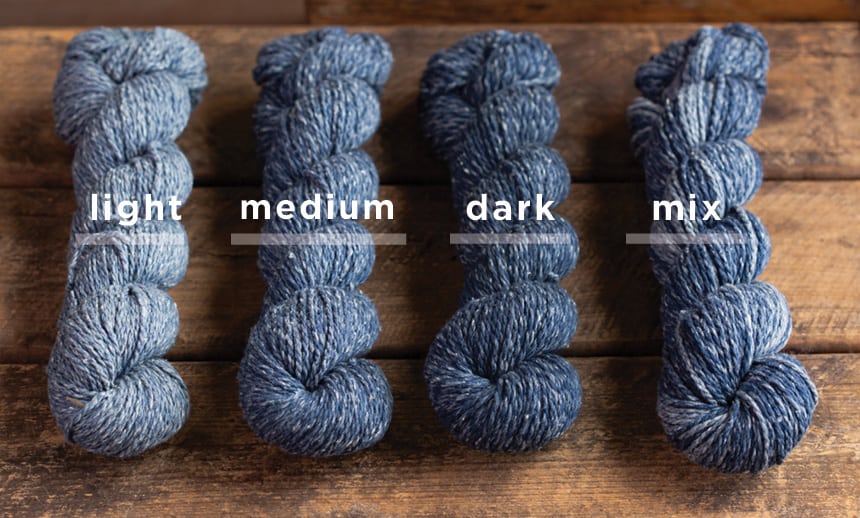 Dapple's unique blend of wool and cotton transcends traditional solid colors. Desaturated dots of organic cotton enhance the singular beauty of each skein. Experiment with the greater variability of dark tones or paint your project with a lighter, less variegated colorway–let Dapple do the work. With watercolor artistry and saturation ranging from light to dark in hue, each skein is a unique iteration with no dye lots to coordinate, making every project truly one-of-a-kind.
Cotton's soft hand belies a harsh history of anti-Black racism and oppression in America. The ubiquitousness of this natural fiber is a direct result of the plantation slavery that enabled its lucrative proliferation. The modern production of organic cotton does not reproduce these traumatic conditions and, instead, reinvests in its workers and the land by promoting equitable labor standards, and regenerative environmental practices. This model leads us all to a more sustainable and inclusive future. Recognizing the violent history of cotton cultivation makes the future of agricultural success and safety for Black farmers an even more necessary goal. Legacies of exploitation and discrimination have kept Black farmers from land ownership and successful agricultural careers. Of America's 3.4 million farmers, 95% are white, with Black-owned farms accounting for a mere 0.5% of American farmland. 3% of all profits from Dapple sales will be donated in perpetuity to the National Black Farmers Association. No complex issue can be solved overnight, but moving towards a more inclusive future for all is crucial to Brooklyn Tweed's values of domestic sourcing, equity and antiracism. Read more about The Legacy of the U.S. Cotton Economy by Sha'Mira Covington HERE. Meet Brooklyn Tweed's Dapple Collection Consultants and Contributors HERE."
Dapple from Brooklyn Tweed on Vimeo.
We are thrilled to have this gorgeous, nuanced yarn in the shop, nestled in among all the others, bringing its hope for the future of yarn and the American people to our shelves. We hope you love it as much as we do. Find the entire Dapple collection HERE.