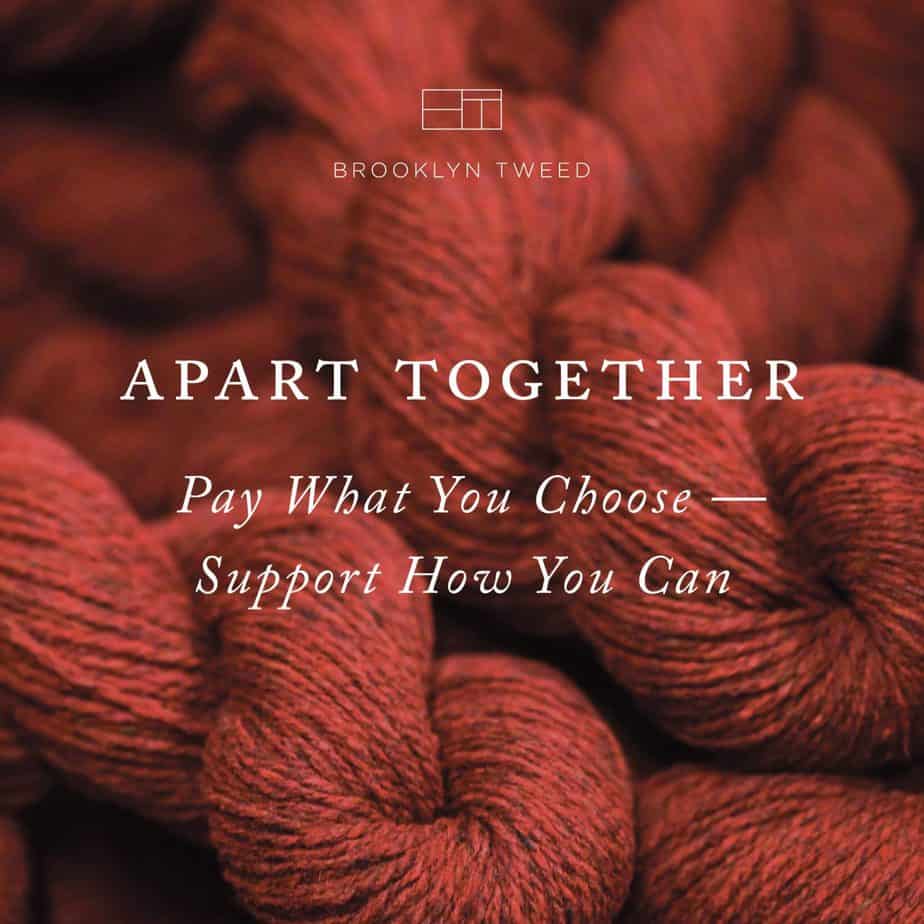 This isn't easy. COVID-19 is changing lives daily. Rapidly. Permanently. You've never done this before. We've never done this before. Let's do it together.
​​​​​​​Today, more than ever, we're honored to be a part of the Brooklyn Tweed story. As if this American yarn wasn't wonderful enough, the company has created a model for community good that has utterly blown us away.​​​​​​​ With their 'Apart Together' initiative, they are offering all customers who are experiencing financial hardship during this stressful time the ability to purchase Brooklyn Tweed yarns at a more accessible price point‑‑while also supporting their favorite BT-carrying brick-and-mortar shops. We are offering these discounts to you, with credit back from Brooklyn Tweed to us for the discounted difference of each yarn sale.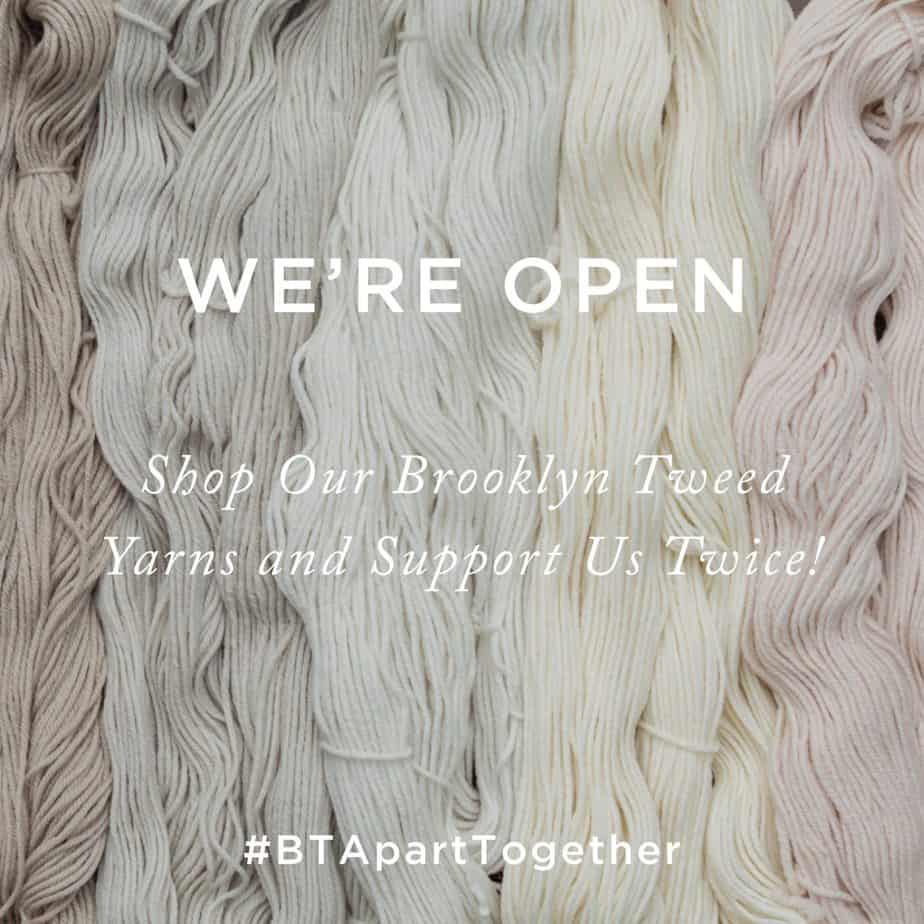 ​​​​​​Buying American yarns at a discounted price allows you to take comfort in new projects without creating additional money-stress‑‑while at the same time supporting your local yarn store. In this Pay-What-You-Choose system, any amount you elect to pay‑‑from 30% off to full retail price‑‑will be credited to Wool & Honey. This means you're directly supporting us while we navigate life in the wake of COVID-19, and at the same time, supporting Brooklyn Tweed and their mission: to connect Makers to their materials by creating timeless wool yarns and patterns that support textile production in the USA.​​​​​​​
Even a single skein supports your LYS. Buy a bundle of Peerie for that friend who's always wanted to try it. Snap up skeins of Shelter for your holiday stitching and get started early. Take the plunge on that massive blanket in Ranch 02 you've been eyeing in your queue. However you choose to support your LYS, we‑‑and Brooklyn Tweed‑‑are behind you.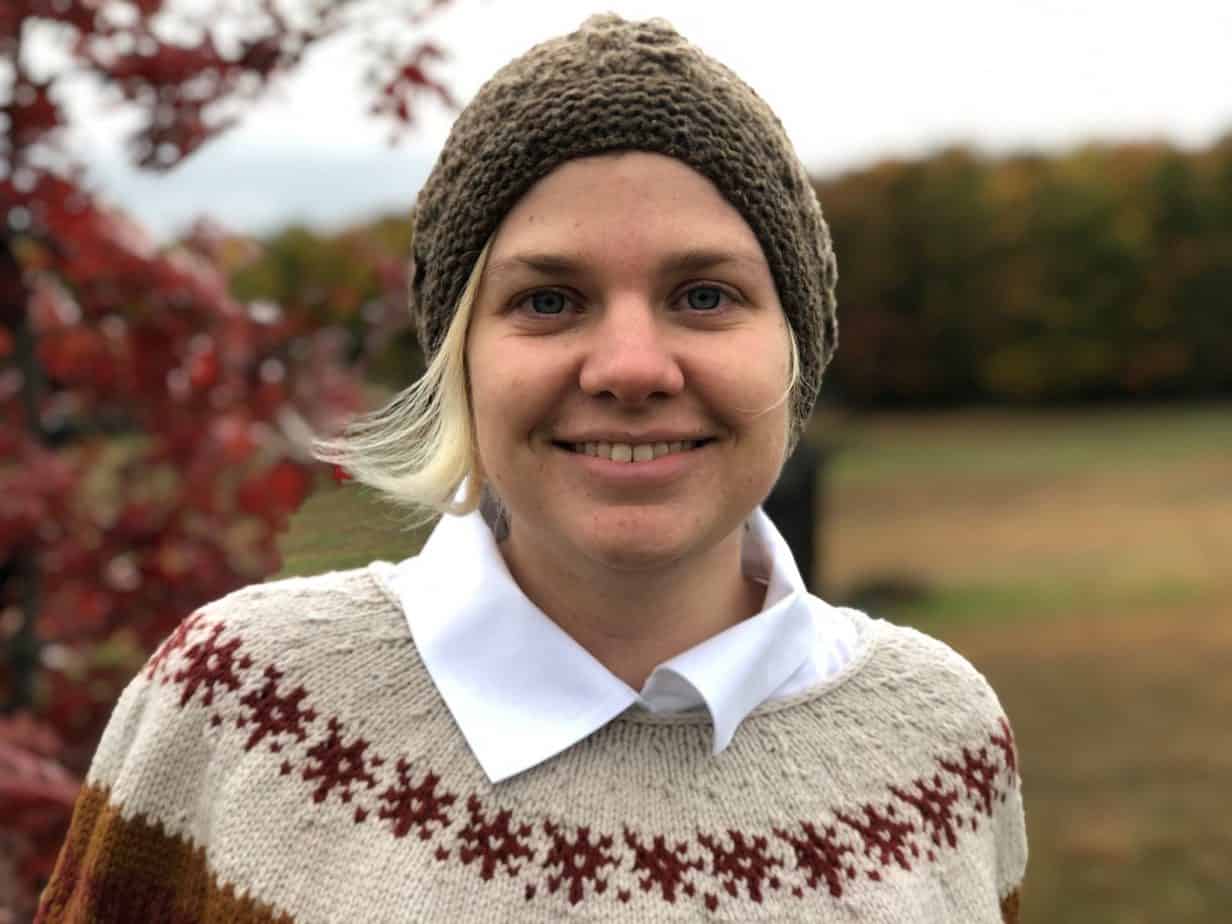 Liz is wearing the Collomia Pullover in Ranch 02, as knit by our dear friend Melissa Hunter (melissah33 on IG)​​​​​​​
Not sure what to knit? Peruse the full pattern library on BrooklynTweed.com‑‑all pattern sales directly support their wonderful network of pattern designers, which further bolsters our community. Additionally, they have made all of the BT by Brooklyn Tweed patterns available FREE on BrooklynTweed.com, giving you fresh, fun options for creating during these stressful times.
Order online and enter coupon codes:
BT10
BT20
​​​​​​​BT30
For 10%, 20% or 30% off your Brooklyn Tweed purchases now through May 15th.
See something you love but it's out of stock? Give us a call at (231) 228-2800 or send us an email at thebuzz@woolandhoney.com and we'll order it‑‑special orders qualify for this discount, too.
​​​​​​​