Speckles, bold color, lines, stripes and zig-zags….we are thrilled to announce that we are welcoming designer Stephen West to Northern Michigan on Tuesday, September 27th. We're one of a select few stops on his brief upcoming U.S. book tour for Westknits Bestknits and we have an amazing day planned for our hive.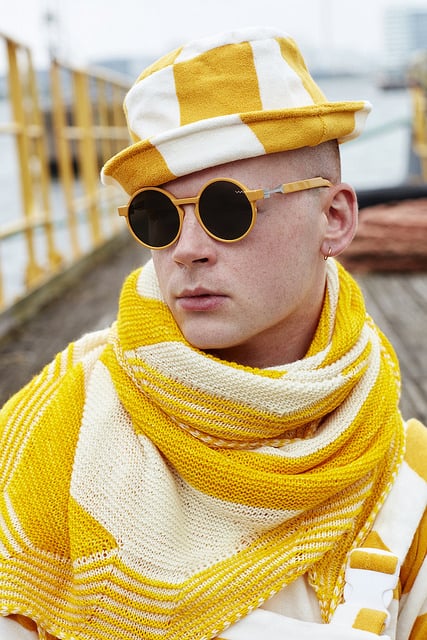 On Tuesday, September 27th from 7 to 9 pm, we're having a cocktail reception for Mr. West–and everyone is invited to join us. You'll have the chance to meet Stephen, try on his huge collection of knitted samples and perhaps listen to a short presentation about the Westknits story and Stephen's process as a knitter and designer. We'll be celebrating with both sparkling wine (L. Mawby, of course!) and a special cocktail, as well as some of our favorite local cheeses, fruits and treats. The evening is free…and even better? We're giving away a HUGE gift basket filled with Stephen's favorite yarns (Madelinetosh, Hedgehog Fibres and the Plucky Knitter) to one extremely lucky partygoer, worth over $250.
During the day on September 27th, Stephen will be teaching a 3-hour workshop called Two-Color Brioche for Beginners. Learn the intriguing brioche technique in this colorful workshop taught by the King of Brioche himself, Stephen West! After declaring brioche the stitch of the year for 2015, the technique has gained massive popularity and a cult following. This class will guide you through the two-color cast on and I-cord cast on, brioche knit/purl stitches, and directional increases and decreases.
There are 14 available tickets and ONE lucky customer will win a spot in the class–FREE. Read more about how to purchase a ticket–or nab one FREE!–through our lottery drawing HERE.
Want to keep up with all the details? Email us at thebuzz@woolandhoney.com and we'll add you to our newsletter list. There will be many more details to come over the next six weeks (and maybe even a teaser picture or two); we guarantee you won't want to miss this day with the King of Brioche.
photos courtesy of Westknits