Last week I dropped the bomb that I had knit a sweater in six days…and then I totally left you hanging. (To be honest, I was catching up on my sleep.)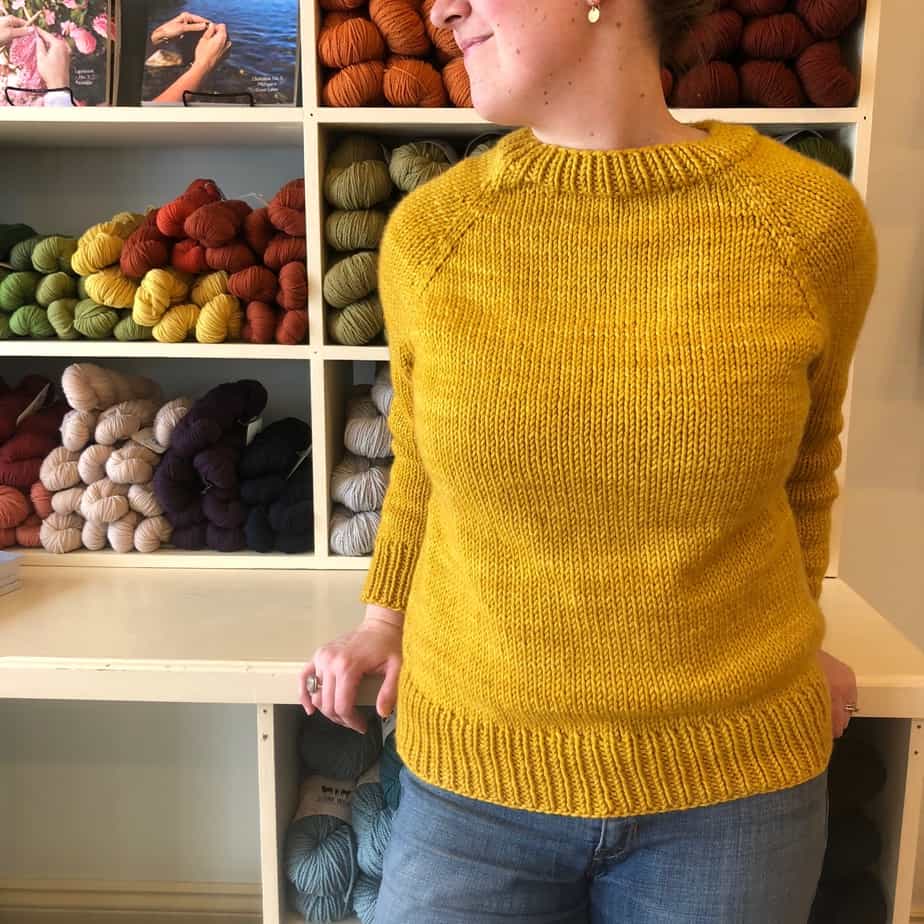 I've probably knit Hannah Fettig's patterns 20 times (at least!) over the past 17 years and she is, without a doubt, my favorite designer. Mostly because when I sit down to knit sweaters for myself, I gravitate toward simple, unfussy classics–the basic patterns (pullovers OR cardigans) you reach for over and over. I am also more of a production knitter than anything else; when I finally have the time to knit, I prefer just knitting vs. spending my knitting time learning new or heaven forbid, difficult techniques. I am, in effect, a Lazy Knitter. (This, I have discovered, is my #knittruth.) The climate here (we pretty much wear knitwear in all four seasons) and their overall wearability (the casualness of Northern Michigan's winter uniform extends slightly beyond jeans + boots + puffer coats on top of layers and layers of wool) makes every sweater in this collection a mandatory wardrobe staple–to me, Home & Away is like a sacred text. It's my knitting guidebook.
When we planned out our fourth KAL from this book, we knew we wanted to do something different. Because we hadn't introduced a new Plucky colorway in awhile, we knew this would be the knockout combo we were after. We asked Sarah and Hayley for an extra special base  for this particular batch–and Snug, the most luxurious blend of Merino, cashmere and royal alpaca–is nothing short of divine.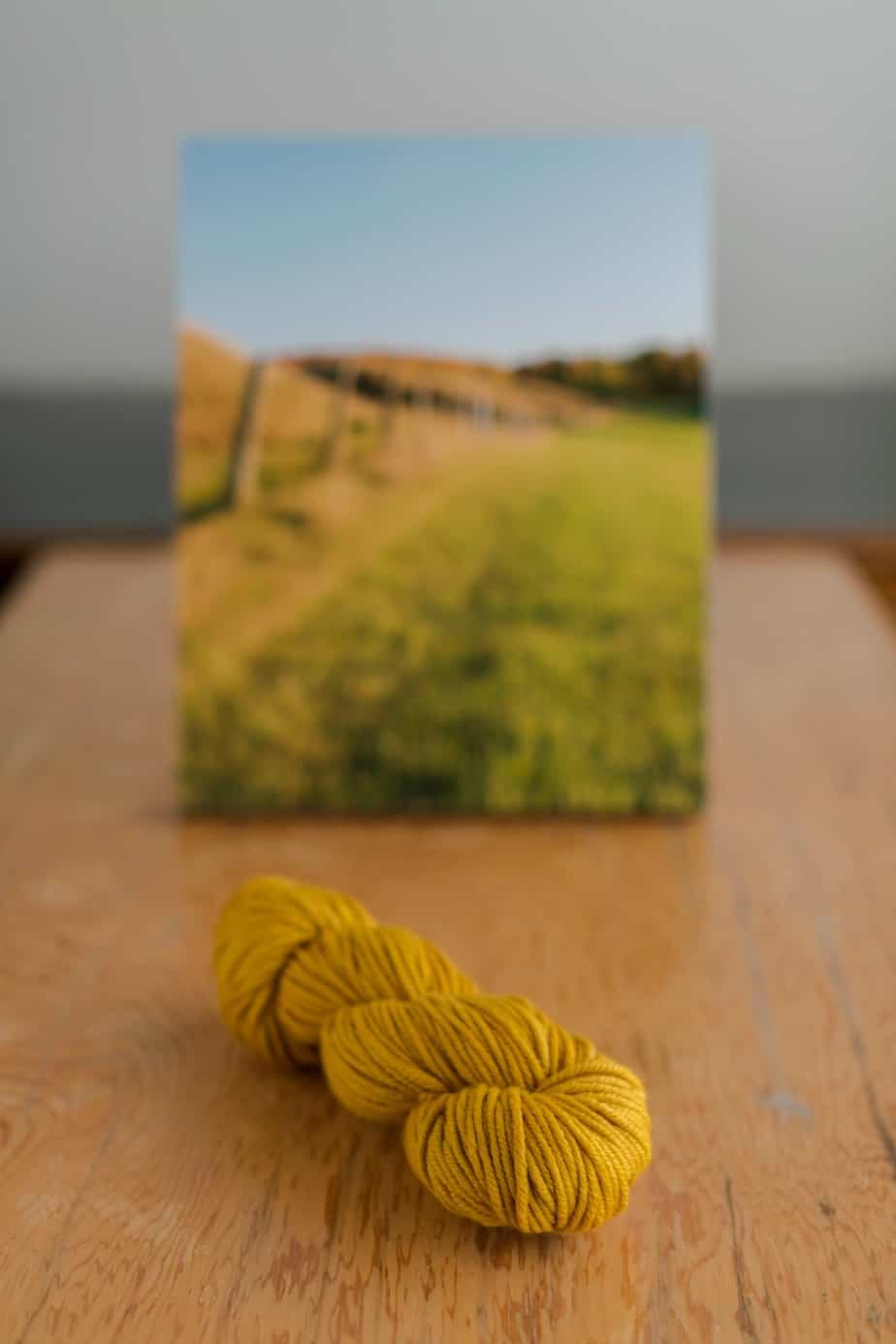 (Thoreson Farm, a warm golden yellow named after one of the historic farms along the Sleeping Bear National Lakeshore.)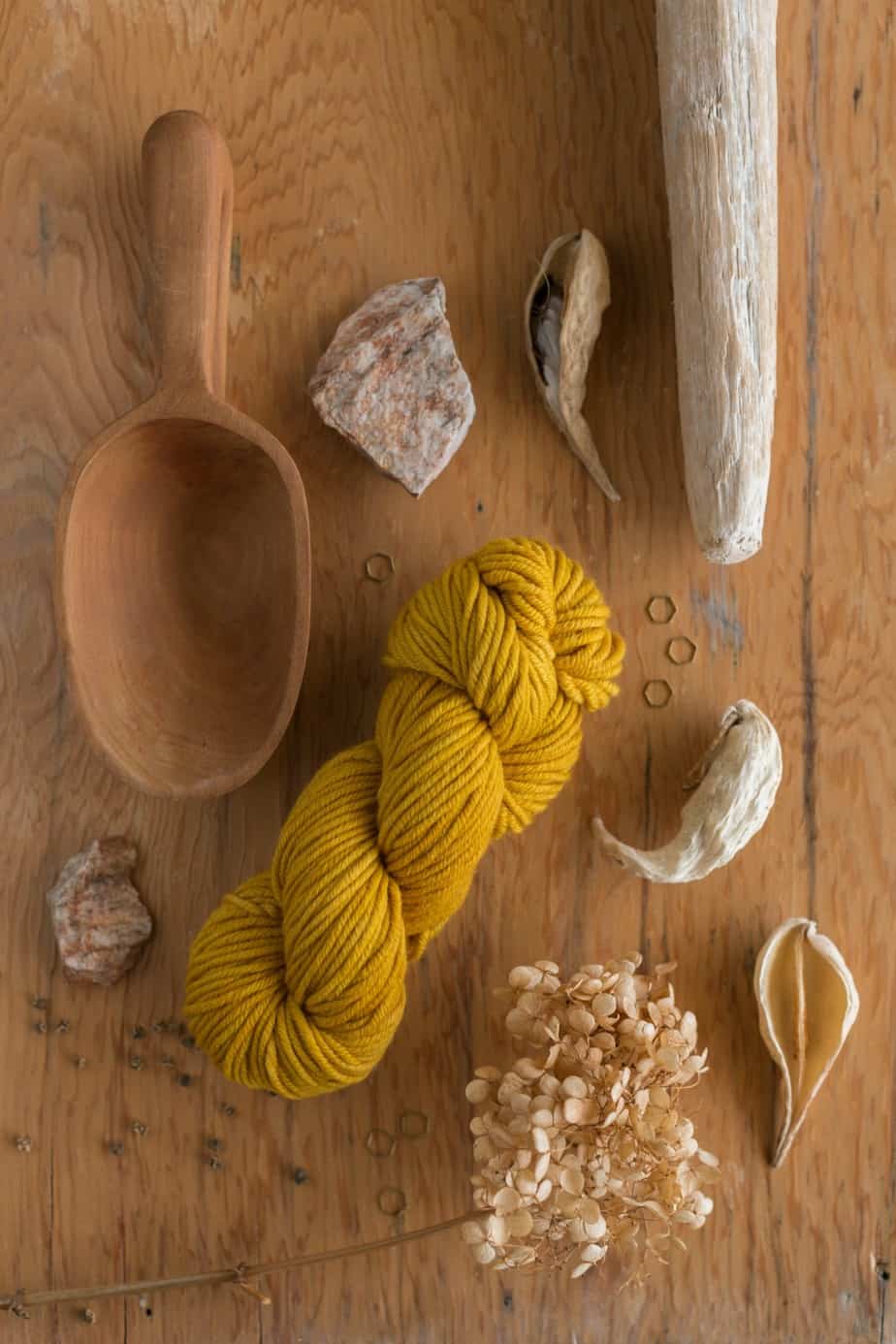 Lesley is an aran weight pullover that is flattering, comfortable and suuuuuper quick to knit. A great combo for a month-long knit-along, no?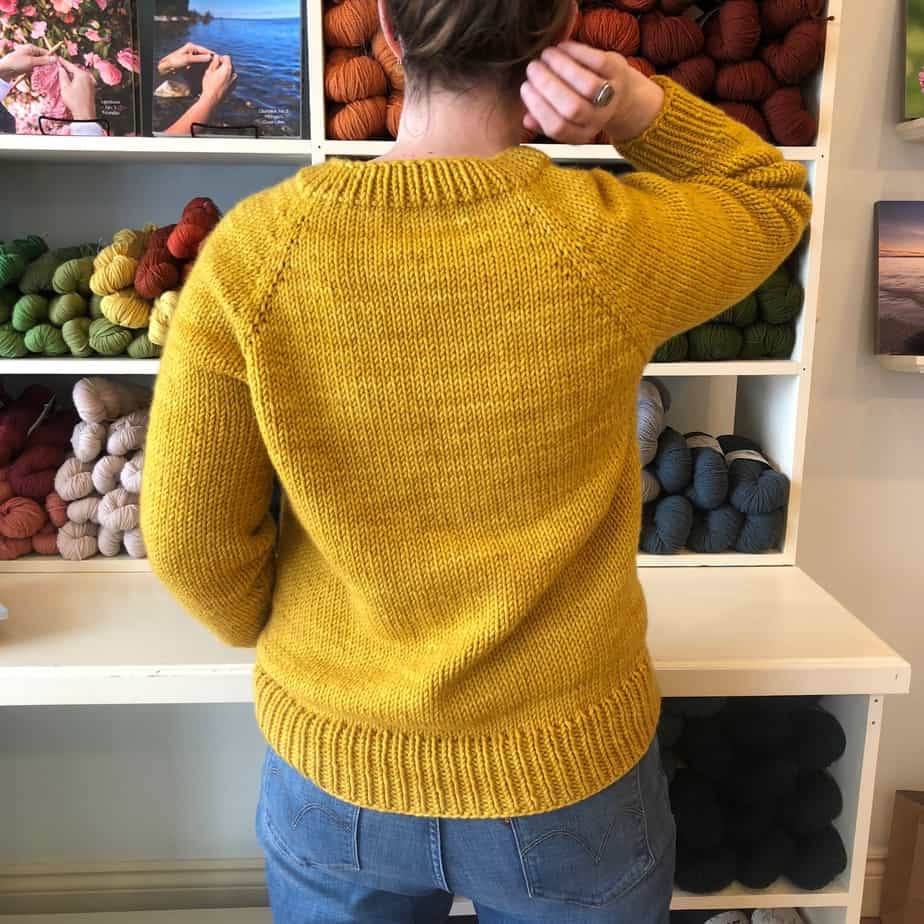 The sweater is quite a bit more relaxed on me than it is on the model from Home & Away, a little by design and a little by accident. The pattern suggests negative ease of 0.5″; being between sizes (my actual measurements are 38″ and the pattern includes sizes of 36″ and 40″–I followed the instructions for the 40″) and due to a bit of a gauge snafu (I got 13.5 sts/4 inches vs. the 14 sts/4 inches the pattern calls for,) my sweater measures 42″ instead of 40″, which is 4″ of positive ease. I actually think it's better for me than negative ease–I'm not slim and I don't know that a body-hugging sweater would have been that flattering to my body in its current sugar-loving state. Ahem.
I knit this sweater in six days–cast on on January 30th (which was a Tuesday evening) and bound off on Monday morning, February 5th, and while yes, I do knit quite fast, I had, as everyone else in this whole world does, a whack of other things to do at the same time. I did not take any time off from work, nor did I knit at the shop any more than I normally do (while waiting on browsing customers, if I'm not pricing or cleaning or restocking) and I didn't leave my daughters in extended child care to do it. (In fact, just like always, I had Sienna with me all day, every day. Sasha goes to full-time preschool M-Th.) This sweater was knit in the (very!) early mornings and late nights, and it was a tight but very doable goal for me. The secret? Putting in the time. I'm sure this will come as no surprise to you, but I spend an exorbitant amount of time fooling around on my phone. Much of it is knitting related, yes, but oh man, I waste so. Much. TIME. I knew if there was any chance on earth of finishing this sweater, I'd have to curtail my scrolling habit. So really, this sweater is the tangible proof of what a knitter can get done if she, you know, KNITS.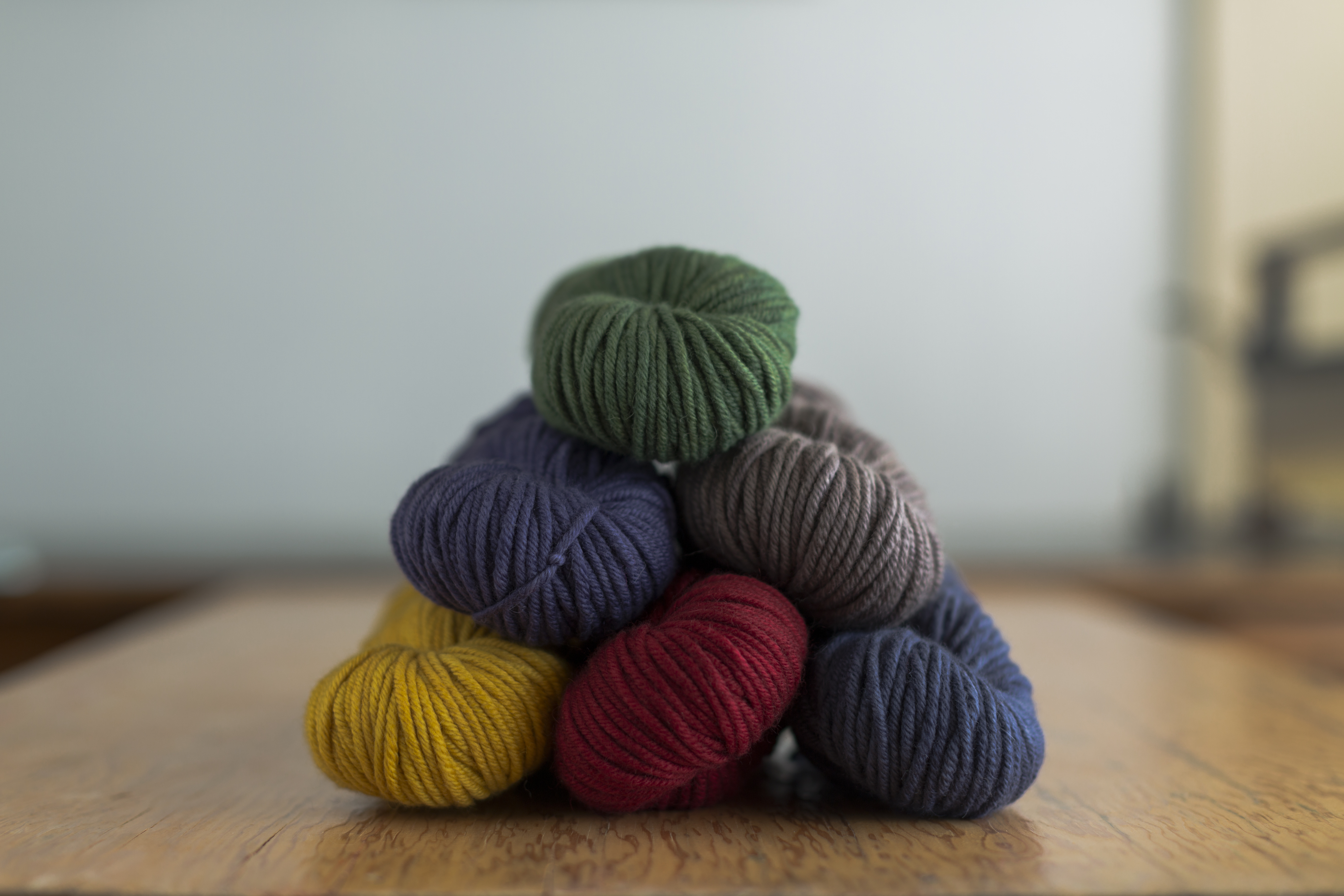 We'll be kicking off our Lesley KAL on March 1st, but we're taking pre-orders for the Leelanau Palette through this week only–click here to see all the colors in the range. As with all Plucky Knitter yarns, these colorways are available for a limited time and are exclusive to Wool & Honey. I'm currently racing against the clock to finish my Azimuth before the Olympic flame is doused, but I'm also considering knitting another Lesley–this time in Good Harbor Bay. There's really no such thing as too many basics.