Every month, you'll receive a package in the mail that includes an exclusive hand-dyed colorway based on a Leelanau landmark, a coordinating semiprecious stone stitch marker and a pattern of your choosing (either a pair of socks, a shawlette or a baby sweater).  These items, as well as being exclusive to the Sleeping Bear club members, are at 10% off retail price.  When you sign up for a 12 month subscription, we send you additional FREE gifts: a logo tote bag, and a commemorative logo stitch marker and a discount coupon for 3% off EVERY purchase made at Wool & Honey.  When you prepay for your subscription, you receive discounts–the most spectacular being if you prepay for a full year.  That's a savings of $40, plus free gifts!
When you sign up for the Sleeping Bear Yarn Club, we'll be giving you a call to obtain your monthly billing information for your file.  Please rest assured that your personal information is completely safe and secure with us–we will NEVER share your personal information with any third party.  EVER.
You'll also be added to the email newsletter list that's just for club members.  You'll receive an email once a month that will include preview of the next month's patterns, yarn and stitch markers so you can start planning, choose your pattern and order additional skeins and stitch marker sets.
$34.99/month for local pickup
$43.99/month for USPS Priority Mail delivery
When you sign up now, you secure your spot for your first month's delivery–May 2019.  After that, your card will be charged on the day the month's subscriptions go out, which will be on the 15th of every month.  It's up to you to keep us up-to-date on your credit card's information; if your card is declined and we can't get in touch with you before your shipment will go out, your subscription will be cancelled.
When will I get my subscription?
If you choose local pickup, you'll be able to pick up your goodies as early as the afternoon on the 15th of every month.  For those of you receiving your packages in the mail, look for your package to arrive 2-3 business days after the 15th of the month.
I love next month's yarn so much, I want to order a skein for me and my mother-in-law and my best friend and….
That's awesome!  You'll be receiving an email every month with an option to add additional skeins to your order.  Or, you can call us (231) 228-2800 and let us know so that we can add extra skeins to our SBYC order.
What if I've signed up to receive shawl patterns every month, but I really love the next month's pair of socks?
You can switch your monthly pattern choice as often as you'd like.  You can even order both (we'll give you the 10% discount on all the patterns.)  Give us a call at (231) 228-2800 and make sure you get what you really want.
What if I'm not ready to sign up now?
That's okay.  While you are going to miss out on some pretty fabulous yarns, we'll be accepting memberships year-round.  As an example, if you sign up on October 1st, your first package will be November's shipment.  If you sign up after October 15th, your first package will be December's shipment.  (We give our dyers an exact count on the 16th of the month before it's their turn, so they have a full month to order their base yarns and dye our colorway.)
But I don't live locally.  How can I get my 3% off every purchase at Wool & Honey?
No problem–when you sign up for a 12-month subscription, we'll create a personalized coupon code for you to use online at checkout.
What if I want to split up my subscription–every other month I want to receive a package and I want to send the alternate months to a friend?  Or three friends?
We can do that!  Just give us a call at (231) 228-2800 and we'll set up any kind of crazy combination you want.
What if I want to cancel my subscription?
We'll miss you!  If you decide that the club just isn't for you, or it's no longer in your monthly budget, you can cancel at any time.  You will, however, be charged a $39.99 fee for any year long memberships.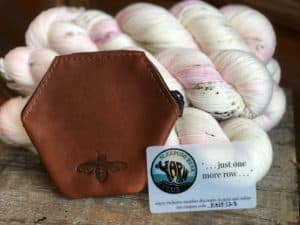 Okay, so I loved Year One. What happens when I'm ready for Year Two? (Or Year Three?!?)
So glad you asked! More perks, of course!
When you sign up for Year 2, your discount coupon moves from 3 to 5%, you'll receive a Wool & Honey notions bag, plus a $50 gift certificate to the shop, to spend either in-store and online.
When you sign up for Year 3 (and beyond!), we consider that a Lifetime Leelanau Member. Your discount coupon stays at 5%, one month out of the year, you can add an extra skein to your order and we send you an original gift that will change throughout the years–2019's gift is a handmade leather bee pouch by local artist Ted Gilmer of Leelanau Trading Co..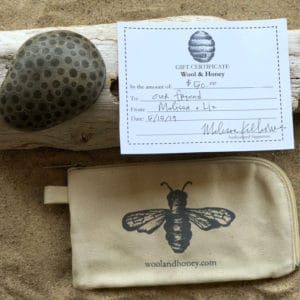 And even better? Five-year members will receive all of these things–the discount coupon, the extra skein and the year's free gift–PLUS a copy of Carson Demer's book, Knitting Comfortably–The Ergonomics of Hand Knitting.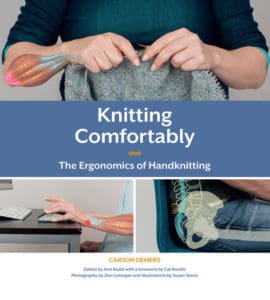 Where's the best beach in Leelanau County?
Come on, now.  You know we'd never give away all our secrets!