Tubular Cast-On + Bind-Off Class with Julie Hoover
$45.00
Warm, woolen mittens, cozy Aran sweaters, nubby, flecked tweed–quintessential Autumn. We are over the moon about our upcoming weekend with knitwear designer Julie Hoover and Brooklyn Tweed company founder Jared Flood October 28-30th. They're visiting Northern Michigan to spend the entire weekend with our hive–we've been looking forward to this weekend all year. Read all about the weekend's events HERE.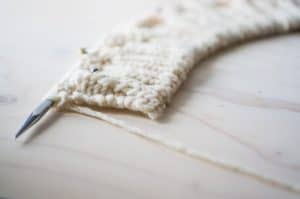 Often in knitting, we'll have cast on (or bound off) a piece, only to discover that the neckline or the entire hat itself is too tight to fit over our heads. A tubular edge–a stretchy, flexible method of casting on and binding off–can offer a solution. In this class, Julie will teach students how to cast on and bind off, giving them the opportunity to add these incredibly useful techniques to their knitting toolbox. 
Julie Hoover is an Ann Arbor-based knitwear designer, designing garments for her own line, as well as Manos del Uruguay, Kogle and is a member of the Brooklyn Tweed in-house design team. We are honored to have her teach at Wool & Honey.
There are 10 tickets available on a first-come, first-serve basis. The class will be 2 hours in length on Saturday, October 29th and is $45. Students will be given the exact time and supply list on October 24th.
Want to know more about our Brooklyn Tweed weekend events? Email us at thebuzz@woolandhoney.com and we'll add you to our newsletter list. There will be many more details to come over the next few weeks (and maybe even a teaser picture or two); this weekend will be the event of the entire fall season.
Out of stock