The Dunes, A Michigan Yarn Project
$29.99 $26.99
What if you could have a little piece of Leelanau delivered your home every month?  Introducing the Sleeping Bear Yarn Club, a year-round yarn club created for knitters who love Northern Michigan and the beauty it represents.
This colorway is a pre-order, will ship with the September 2019 installment of the Sleeping Bear Yarn Club and is available only to current members. Not yet a member? Click HERE to sign up.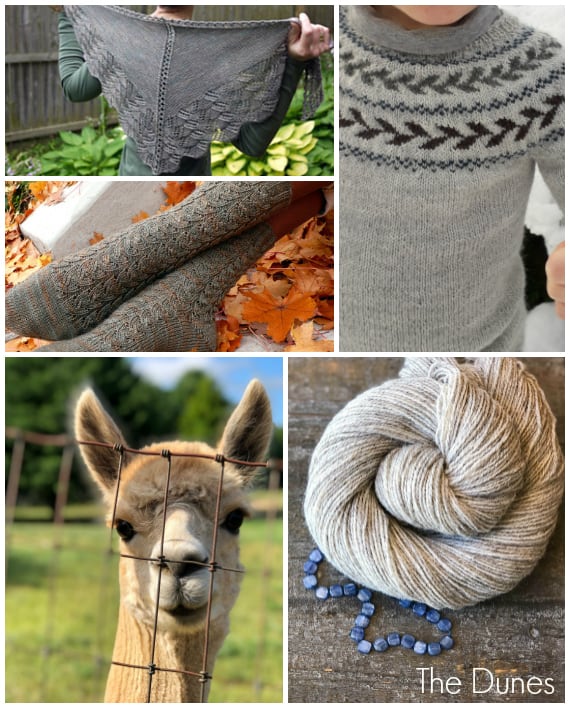 400 yds–100 g
60% Huacaya alpaca, 40% Babydoll Southdown wool
2-ply fingering weight
The Dunes, yarn grown along the Sleeping Bear National Lakeshore. This is perhaps the most precious selection we've ever offered, a secret project that's been in the works for more than a year: a yarn 100% made in Michigan. With alpaca and wool grown at four different Northern Michigan farms, it is the most local–and most rare–yarn we've ever had. Sourced within 50 miles of the shop and each other, this yarn is 60% Huacaya alpaca, 40% Babydoll Southdown wool….and spun at the 109-year-old Zeilinger Wool Company in Frankenmuth, MI. It's a combination of fleeces in every color–creamy white, fawn, tawny, chocolate brown, rose gray–all combed together in a small-batch, ring-spun yarn that's soft, heathered and farm fresh. This is a once-in-a-lifetime edition; there is a finite number of skeins available, and once they're gone, that's it. Forever.
This yarn is brought to you by:
Aral Peak Farm in Honor (Babydoll Southdown sheep)
Hahn Farm in Beulah (Babydoll Southdown sheep)
Northern Dreams Alpaca in Empire (Huacaya alpaca)
Three Little Birds Farm in Northport (Babydoll Southdown sheep)
Zeilinger Wool Company is a fourth-generation-run wool mill in Frankenmuth, Michigan. We chose Zeilingers for the project not only because of their proximity to the shop, but because of their experience in ring-spun yarn, a technique essential to spinning the short, bouncy fibers in the Babydoll Southdown wool. We are so grateful to April and Jon for giving this project their undivided attention, from initial inquiry through fleece pickup in July (as pictured here), to their speedy execution of this special yarn.
We also owe an extra special thank you to our dear friend Tracie Herkner of It's Sew Ewe in Lake Ann for introducing us to many of these farmers, as well as helping to shear at Aral Peak this spring, and skirt every single one of our Babydoll fleeces before they went to the mill. Tracie, we couldn't have managed a project of this scope without you!
Hand wash cool, lay flat to dry. This is NOT a superwash yarn; if you put this yarn in the washing machine, it will felt .
* * * MEMBERS ONLY * * *
Out of stock