Osage 01 Stone Wool Cormo (100g)
$27.50 $27.50
100% American Cormo
Grown, spun & dyed in the USA
Worsted weight
4.25 – 5 sts per inch on US 6 – 8 needles
200 yds – 100 g
When Whitney Hayward joined with Twig & Horn to develop a mill-spun yarn, a 2-ply worsted seemed the perfect homage to Stone Wool's handspun origins. They partnered with two ranches–one in Montana one in Wyoming–for Cormo wool, and a Western mill for fiber processing and spinning.
They worked with the mill on a special method of fiber preparation, one that marries woolen and worsted processes. The result is a unique yarn with woolen spun's airy loft and worsted's strength. Springy, lofty and with a substantial hand, Stone Wool Cormo offers crisp stitch definition, with the perfect amount of texture in the knitting. We hope you fall in love.
The yarn has a wonderfully nubby texture, which blooms in the soak. Our Cormo can be knit in a wide range of gauges for a completely different fabric. We recommend needles size US 6 – 7 for hard-wearing knits, up to US 9 – 10 for knits with full drape. The wool is gently scoured–never with harsh chemicals–and as a result there will be occasional flecks of hay and nips in the fiber, which are easy to pick out as knitting, if desired.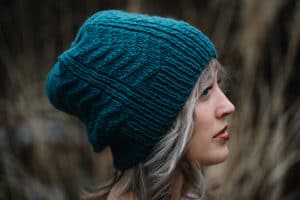 Not sure what to knit with Stone Wool Cormo? Take a look at The Quill Hat Kit, a reversible, textured hat for a new everyday go-to hat. Find the kit HERE.