$6.99 $6.29
This pattern is available to our club members as a part of our July Sleeping Bear Yarn Club. Not yet a club member? Click HERE to sign up and to receive Leelanau Specialty Cut Flowers as your first month's installment.
Size:
6 months (1, 2) 4, 6, 8, 10 years
Yardage Required:
362 (522, 577) 681, 747, 750, 880 yds fingering weight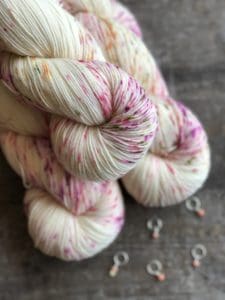 Matilda is a mid-season sweater in texture stitch, featuring a nice ruffle at the neck. The stitch distributed on the body and the sleeves, and the finishes in twisted ribbing are little feminine details which are made to embellish this sweater.
It is knitted from top to bottom: the top is first knitted back and forth to create an opening at the back; it is then joined in the round to knit the top of the chest. The sleeves are put on hold to knit the body; Once the body is knitted, the stitches from the sleeves are put back on the needles to be knitted one by one. Finally, stitches are picked-up at the neckline to create the collar, and an I-cord is knitted in the back to close the opening with a loop.
Brought to you by way of Anna of Devon, UK.