Lone Oak Quince & Company Piper
$15.99
50% Texas super kid mohair, 50% Texas superfine merino
Grown, spun & dyed in the USA
Heavy Lace weight
6 – 7 sts per inch on US 3 – 5 needles
305 yds – 50 g
Piper is our pretty little southern bird. We sourced the softest super fine kid mohair we could find from a Texas herd of angora goats and blended it with super fine Texas merino to make a lighter-than-air, almost lace weight single-ply yarn. Piper has a pretty halo and a subtle sheen, thanks to the long, silky fibers of the mohair. Knit it on a larger needle if you want. It fills in nicely. Great in sweaters, hats, and, of course, shawls.
Showcasing mohair's well-known qualities, ethereal Piper is our single-ply laceweight yarn comprised of 50% super kid mohair, 50% superfine merino, both sourced right here in Texas, USA. With its comforting halo and soft sheen, Piper creates a lightweight, yet ultra-warm fabric, soft enough for next-to-skin wear.
Its versatile weight lends itself not only to lace projects, but to hats, mitts, garments, and other projects just as well. We suggest a gauge of 6–7 stitches per inch on size US 3 (3.25 mm) to US 5 (3.75 mm) needles as a starting point, but worked on larger needles at a looser gauge, it can produce a wonderful, airy lace; on smaller needles, a firmer fabric that can ward off winter's chilliest temps.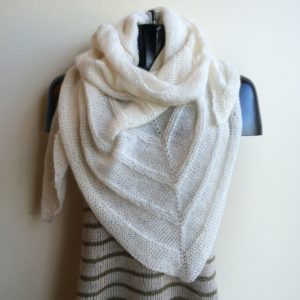 Not sure what to make with Piper? Take a look at the French Vanilla Shawl Kit, to create a floaty statement piece that would pass as authentic French any day. Find the kit HERE.
Piper is not available for online purchase; however, we do take orders over the phone 231.228.2800 or via email thebuzz@woolandhoney.com