$22.99 $22.99
100% Merino Wool
Super Bulky weight
8 to 10 sts per 4 inches
US 13-19 needle (9-15 mm)
90 yd [82 m] / 150 gram
A lightly-fulled single-ply yarn of magnum proportions. Whip out a super-cozy accessory in just hours with this super-sized delight of a yarn. A premium Uruguayan merino is just as soft as ever, and Rasta comes in a range of our unique "watercolor multi" colorways as well as a rainbow of semi-solid basics. Unbelievably squishy, this is the yarn to turn to when you want the ultimate in warmth (or the ultimate in speed!)
Great for: Quick knits, textured stitches, hats, cowls, scarves, outerwear.
Be sure to get enough yarn to complete your project since each bag is a different dye lot, and skeins may vary from bag to bag. The skeins may vary one from the other even within the same bag. To ensure random color distribution, work from two balls of yarn at once, alternating a few rows from each ball.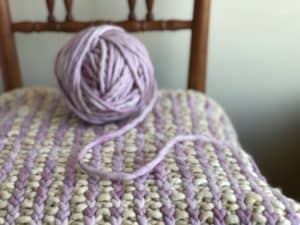 Not sure what to create with these beautiful, super bulky yarns? Try our Tiny Puffs Blanket from our 12 Knits of Christmas 2019, which takes 2 skeins in two colors of Malabrigo Rasta.
Handwash gently in cool water, lay flat to dry.
Out of stock