Caldera Stone Wool Romney + Merino
$30.00 $30.00
100% American Romney & Merino wool
Grown, spun & dyed in the USA
DK weight
5 – 6 sts per inch on US 5 – 7 needles
250 yds – 100 g
Romney + Merino is Stone Wool's second mill-spun yarn, developed in partnership with Twig & Horn: an all-seasons DK weight yarn showcasing the beauty of natural wool. They worked with upstate New York-based Battenkill Fibers mill to spin lustrous Romney with soft Merino wool, raised in the American West, into a worsted 2-ply DK weight.
This Romney and Merino yarn is versatile in its application. The long staple length of Romney wool creates a slight drape to finished knits, balanced by springy soft Merino, making it a wonderful yarn for open summery cardigans, flowing shawls, and hearty pullovers. Feel free to experiment with large needles well beyond the standard range for DK-weight yarn.
We hope you love every moment of working with this yarn, and that you or your lucky loved-one wears and enjoys the garment made with this yarn for years.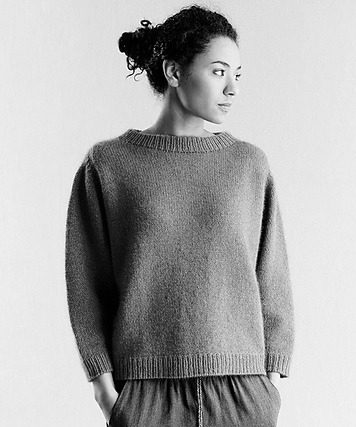 Not sure what to knit with Stone Wool Romney + Merino? Take a look at The Cline Sweater Kit, a classic dolman sweater that is anything but ordinary. Find the kit HERE.