Bloom&Give Santorini Silk Cotton Scarf
$64.99 $64.99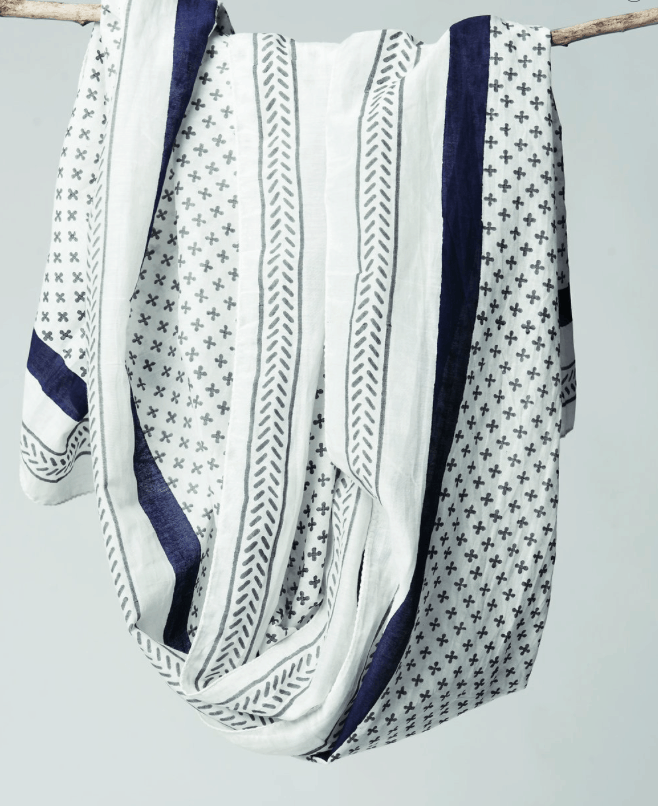 Classic indigo and gray colors make this a versatile scarf. Lightweight enough for spring and summer, but with enough heft to keep you warm in the cooler months. We only use non-toxic, AZO-free dyes.
TECHNIQUE: HAND BLOCK-PRINTING
This scarf was made using a traditional block-printing process. Wooden blocks are carefully prepared by master carvers which are then dipped in dye and stamped onto the fabric. Each color/pattern combination requires a block and each scarf may need several block-prints to achieve the final design. Every step of the process from the design sketch, to the carving of the wooden blocks, to dye-mixing, to block-printing, to washing & drying, has been done entirely by hand, respecting a tradition that dates back thousands of years.
Each scarf is unique and slight variations in color and print reflect the nature of hand block-printing.
Size (approximate): 27 in. x 82 in.
Material: 85% Cotton / 15% Silk

Designed in USA by Bloom & Give.
Handmade in India.
Hand wash cool, line dry. Cool iron.
"Our goal is to use age-old techniques to create contemporary designs that can be enjoyed in everyday life. We work with small co-ops that share our relentless pursuit of excellence and quality, and our belief in fair wages.
We donate 10% of our sales to support girls education programs in India. Research shows that educating girls is one of the most effective ways to turn the tide of poverty and fight gender inequality. When a girl goes to school, she earns more money, has healthier children, and reinvests more in her family. An education changes her life, and the lives of generations to come."
Out of stock