Arabesque Brooklyn Tweed Vale
$15.00 $15.00
450 yards  |  approx. 50 grams  |  lace weight
100% American Rambouillet wool
Grown in Wyoming
Dyed and spun in Maine

Brooklyn Tweed's brand new laceweight is born from 100% Wyoming Rambouillet wool, prized for its loft and bounce. A micron count of 21.5 makes it the finest fleece Brooklyn Tweed has ever offered. They spin this exceptionally soft and crimpy fiber worsted for a springy, durable two-ply yarn that yields airy accessories.Scoured and combed into buttery smooth top, the wool is spun and skein dyed in Maine. Vale's custom palette of 14 shades shares some touchstone colors with their Arbor line and fills in with sophisticated softer tones.Vale is a polished yarn with an even weight and twist, suitable for heirloom-quality lace projects.
Not sure what to knit with Vale? Try the Rock Island Shawl or the Bridgewater Shawl, which can be found here and here.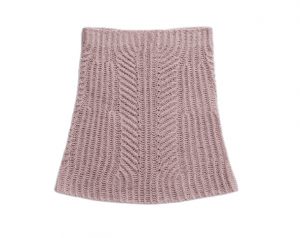 For a limited time, we are offering a FREE digital download pattern for Gully (pictured above,) a brioche lace cowl. Between now and June 30th, when purchasing a skein of Vale, you'll receive a digital download coupon for Gully, a cowl that can be knit with just one skein.
11 in stock