$17.99
Farm House Candle Co. is an artisan candle line made in Leelanau County, MI.  These candles are crafted from 100% natural soy for a carbon-neutral burn. Every candle is hand-poured to ensure the highest quality and performance. We take great pride in selecting and combining natural, fresh fragrances to give you a one-of-a-kind sensory experience. With a unique mixture of fruit, herb and masculine aromas, there is a scent for everyone. We invite you to experience the charm and beauty that Farm House Candle Co. will bring to your home.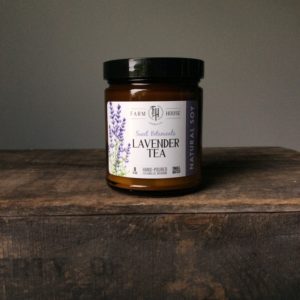 Looking for the NEW Farm House Candles Sweet Botanicals line? Find them HERE.
Farm House Candles come to us from the lovely Beth Gross of Cedar, MI–we're practically neighbors!
Additional information
| | |
| --- | --- |
| Farm House Candles | Espresso + Cocoa, Mandarin + Almond, Orange + Cinnamon, Treemoss + Cedar, Vanilla + Tobacco, Woodsmoke + Apple, Bergamot + Amber, Black Tea + Cardamom, Blue Sage + Juniper, Cranberry + Spruce, Fern + Grass, Fig + Olive, Lavender + Heather, Lemongrass + Verbena, Sea Salt + Vetiver, White Fir + Cypress |